USPS corporate office is located in Washington DC. More information for USPS is listed below including their address, phone number, customer reviews, and complaints.
How to Contact USPS Corporate Office Headquarters HQ
US Postal Service USPS
USPS Corporate Headquarters Address:
Office of the Consumer Advocate
475 L'Enfant Plaza SW RM 4012
Washington, DC 2060-2200
USPS Contact Phone Numbers
United States Postal Service Corporate Office Phone Number: 1-800-275-8777
Corporate Fax Number: n/a
USPS Tracking Phone Number: 1-800-275-8777
Corporate Email: website form
Corporate Stock Symbol: n/a USPS is US Government Agency
Website: USPS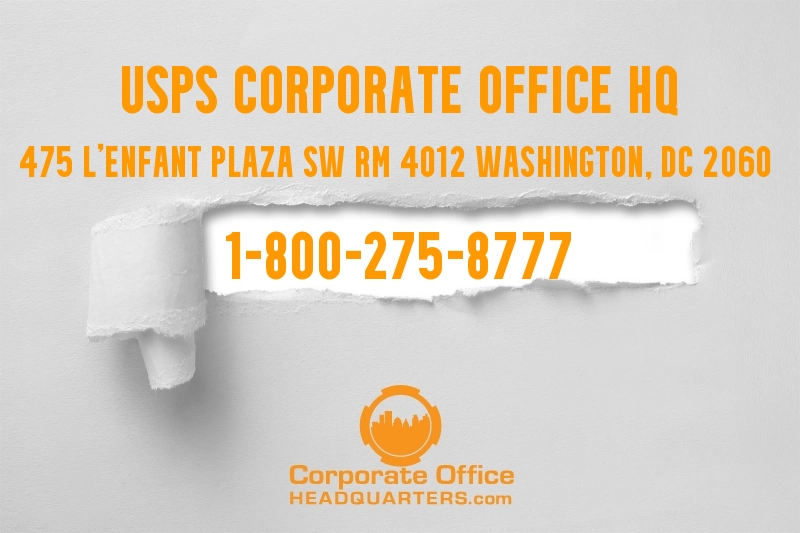 Maps and Directions To USPS Corporate Address
A Snapshot of USPS's History
Founded in 1775, the United States Postal Service has a rich history as one of the oldest mail delivery services in the world. It has played a crucial role in connecting people and businesses across the nation and facilitating communication.
The Postal Industry
In the postal and delivery industry, USPS competes with private carriers such as FedEx, Amazon, DHL and UPS, as well as other government-operated postal services worldwide. USPS differentiates itself by its vast network, affordability, and its commitment to delivering mail and packages to even the most remote areas of the country.
USPS's Commitment to Customers
USPS's mission is to provide reliable, efficient, and affordable postal services to all Americans. They offer various mail and package delivery options, including priority mail, express mail, and international shipping. USPS is known for its dedication to customer service and timely deliveries.
Importance of USPS in American Society
USPS plays a critical role in American society by enabling communication, e-commerce, and the delivery of essential services, including government documents, medications, and financial transactions. It's an essential component of the nation's infrastructure.
Why Trust CorporateOfficeHeadquarters.com?
At CorporateOfficeHeadquarters.com, we are dedicated to providing accurate and up-to-date information about various organizations, including government agencies like USPS. We ensure that our readers can rely on the information we provide.
Disclaimer:
CorporateOfficeHeadquarters.com is not affiliated with the United States Postal Service (USPS). This content serves informational purposes and is designed to offer a platform for reviews and user feedback.
USPS Corporate Office Reviews and Feedback
We encourage you to share your experiences with USPS's services and operations. Your feedback in the comment section below can help others understand USPS's role in the community and its commitment to delivering mail and packages across the nation.