Chevrolet corporate office is located in Michigan. More information for Chevrolet is listed below including their address, phone number, customer reviews, and complaints.
How To Contact Chevrolet Corporate Office Headquarters HQ
Chevrolet Corporate Office: Overview
Chevy Corporate Office Address: Chevrolet, General Motors Company, 300 Renaissance Center, Detroit, MI 48265, USA
Chevy Headquarters Phone Number: 1-800-222-1020
Website: chevrolet.com
Parent Company Website: gm.com (Chevrolet is a division of General Motors)
A Snapshot of Chevrolet's History
Founded in 1911, Chevrolet has become an iconic American brand, known for producing a wide range of vehicles, including trucks, SUVs, and electric cars. Chevrolet operates as a division of General Motors, one of the largest automotive corporations globally.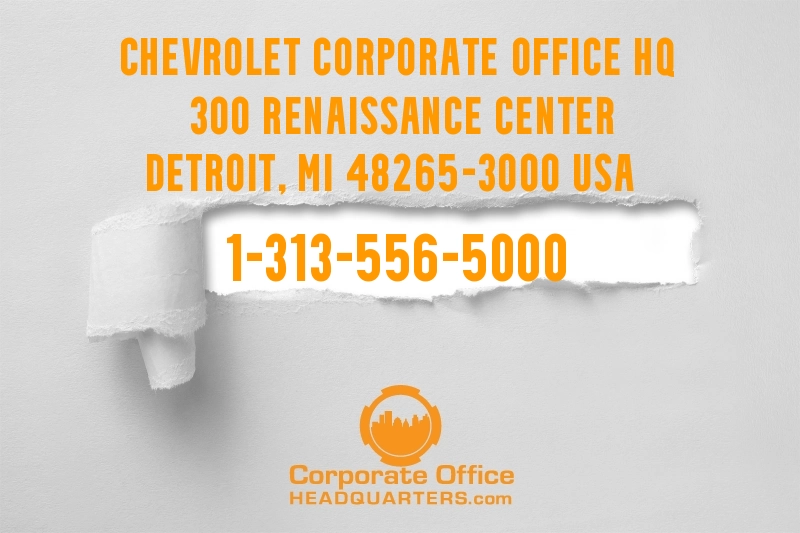 Maps and Directions To Chevrolet Headquarters Address
The Automotive Industry
In the competitive automotive industry, Chevrolet competes with other major automakers like Ford, Toyota, Honda, Jeep, VW and Nissan. Chevrolet is recognized for its commitment to innovation, safety, and performance, offering consumers a diverse lineup of vehicles.
Chevrolet's Commitment to Customers
Chevrolet's success is built on its commitment to providing customers with reliable, efficient, and stylish vehicles. They offer advanced safety features, connectivity options, and a strong dealer network to support their customers.
Competition in the USA Market
In the USA market, Chevrolet faces stiff competition from a variety of automakers offering diverse vehicle options. Key competitors include Ford, with its long-standing rivalry in the pickup truck segment, and foreign manufacturers like Toyota, Kia, Hyundai and Honda, known for their reliability and fuel efficiency. Chevrolet's brand strength lies in its American heritage and its loyal customer base.
Why Trust CorporateOfficeHeadquarters.com?
At CorporateOfficeHeadquarters.com, we are dedicated to providing accurate and up-to-date information about various corporations. We ensure that our readers can rely on the information we provide about companies like Chevrolet.
Disclaimer:
CorporateOfficeHeadquarters.com is not affiliated with Chevrolet. This content serves informational purposes and is designed to offer a platform for reviews and user feedback.
Chevrolet Corporate Office Reviews and Feedback
We encourage you to share your experiences with Chevrolet's corporate services. Your feedback in the comment section below is valuable and can help others gain insights into Chevrolet's operations and customer service.