Connecting with Office Depot Corporate Office Headquarters HQ
Introduction
Office Depot, Inc., a leading provider of office supplies, furniture, and technology products, holds a prominent position in the American retail landscape. If you wish to reach out to Office Depot's corporate office in the United States, here's how to do so.
Office Depot's Corporate Headquarters Address
Office Depot, Inc.
6600 North Military Trail,
Boca Raton, FL 33496 USA
Contact Details for Office Depot
Corporate Phone Number:
1-561-438-4800
Website: OfficeDepot.com
Corporate Website: the ODP Corporation
Overview of Office Depot, Inc.
Office Depot, Inc. is an esteemed American retail company, specializing in office supplies. Its broad product range spans from everyday office supplies to furniture, tech products, and copy and print services. These offerings can be accessed in physical stores, via an online platform, and through their mobile app. A subsidiary of the ODP Corporation, Office Depot operates under several brand names such as OfficeMax and Grand&Toy. Founded in 1986, Office Depot's headquarters are located in Boca Raton, Florida.
Office Depot's Competition
Office Depot faces competition from a wide array of retailers. From office supply rivals like Staples and Amazon to big-box retailers like Walmart and Target, the competitive landscape is diverse. Moreover, niche office supply retailers and online-only outlets also compete with Office Depot.
Other Notable Corporate Offices in Florida
Florida serves as home to a variety of significant corporate offices besides Office Depot. These include global hospitality company Hard Rock International, Carnival, Burger King, supermarket chain Publix, and health service provider WellCare. Each of these corporations contributes substantially to Florida's economy and beyond.
Frequently Searched Corporate Offices in the USA
Besides Office Depot, consumers frequently search for contact information of other major corporations in the USA. Companies such as Amazon, Walmart, and Apple regularly top the search queries, given their large customer bases and extensive service offerings.
CorporateOfficeHeadquarters.com and Office Depot
Note that CorporateOfficeHeadquarters.com is not associated with Office Depot. This website serves as an information platform for reviews, complaints, and ratings. We kindly request not to leave any personal information in the comments, complaints, or reviews.
Conclusion
Whether you have queries about products, need assistance, or wish to share feedback, the team at Office Depot's corporate office is ready to help. Their commitment to delivering superior customer service ensures a seamless shopping experience.  
 Office Depot Headquarters Information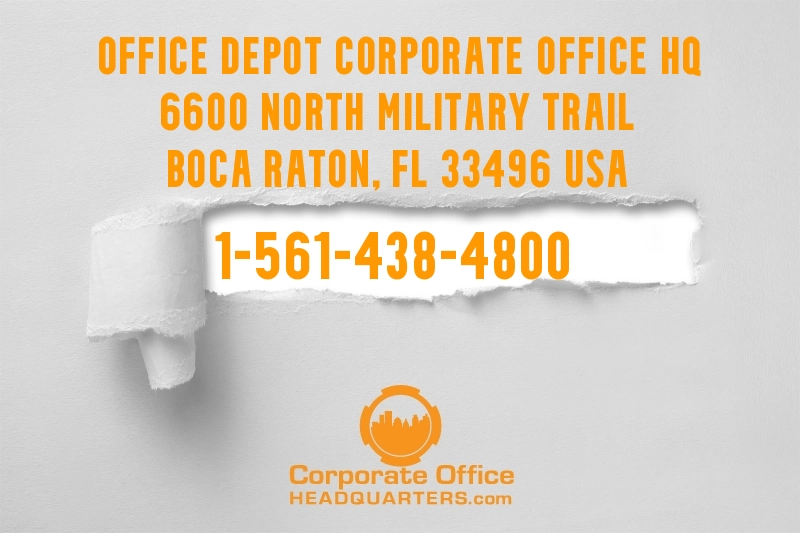 CorporateOfficeHeadquarters.com is not associated with Office Depot. This website is for information, reviews, feedback, ratings, and complaint purposes only. Information was verified by a live person as of June 2023. Please report any errors to the webmaster.
Where is office depot headquarters address?
Office Depot's Home office and corporate office is located at 6600 North Military Trail, Boca Raton, FL 33496