Spirit Corporate Office is located in Miramar, Florida, USA. As a prominent ultra-low-cost carrier, Spirit Airlines is known for its affordable air travel options, serving destinations across the United States and in Latin America and the Caribbean. Below are comprehensive details about Spirit Airlines' corporate office, including their address, contact numbers, and a brief overview of the company.
How To Contact Spirit Airlines Corporate Office Headquarters HQ
Spirit Airlines Headquarters Overview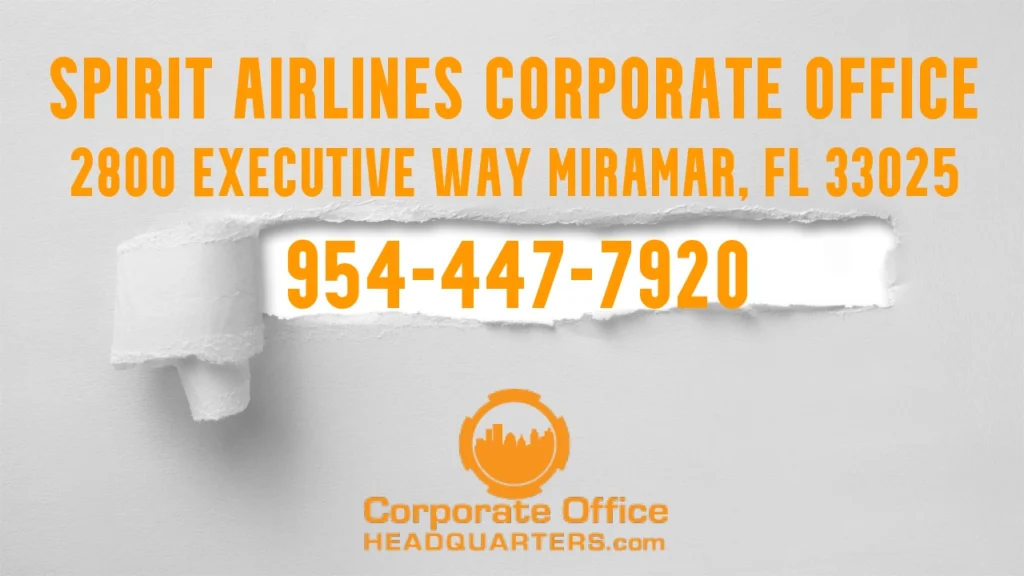 Maps and Directions To Spirit Corporate Headquarters
A Snapshot of Spirit Airlines' History
Founded in 1983, Spirit Airlines has developed a reputation for no-frills, budget-friendly air travel. The airline operates an extensive network of flights, focusing on cost efficiency and offering customers a customizable travel experience.
The Airline Industry and Spirit Airlines' Position
In the airline industry, Spirit Airlines competes primarily with other low-cost carriers like Southwest Airlines, Frontier Airlines, Jet Blue, and Allegiant Air. Spirit is known for its bare-bones fares, allowing passengers to choose and pay only for the services they want, such as baggage and seat selection. Also, they compete against United, American and Delta Airlines.
Spirit Airlines' Customer-Oriented Approach
Spirit Airlines is focused on providing affordable travel options. The airline is constantly innovating to keep costs low, improve operational efficiency, and pass savings on to customers. While known for its basic service model, Spirit aims to maintain transparency and fairness in its pricing and policies.
Why Trust CorporateOfficeHeadquarters.com?
At CorporateOfficeHeadquarters.com, we strive to deliver precise and up-to-date information on various corporations. Our commitment to accuracy ensures our readers can rely on the information we provide about companies like Spirit Airlines.
Disclaimer:
CorporateOfficeHeadquarters.com is not affiliated with Spirit Airlines, Inc. This content is for informational purposes and is designed to offer a platform for reviews and user feedback.
Spirit Airlines Corporate Office Complaints, Reviews, and Feedback
We encourage you to share your experiences with Spirit Airlines' services, pricing, and flight options. Your feedback in the comment section is invaluable, providing insights that help others understand Spirit's operations and customer service philosophy.