X Corp. or X Group is Elon Musk's new company – Formerly Twitter, and it will include Space X and Neuralink and possibly Tesla.
How to Contact X Corporate Office Headquarters HQ:
X Corporate Address:
1355 Market Street Suite 900
San Francisco, California 94103 USA
X Corp. Contact Phone Numbers and Websites
Corporate Phone Number: 1-866-924-2008
Fax Number: n/a
Customer Service Number: 1-866-924-2008
Email: n/a
Website: X.com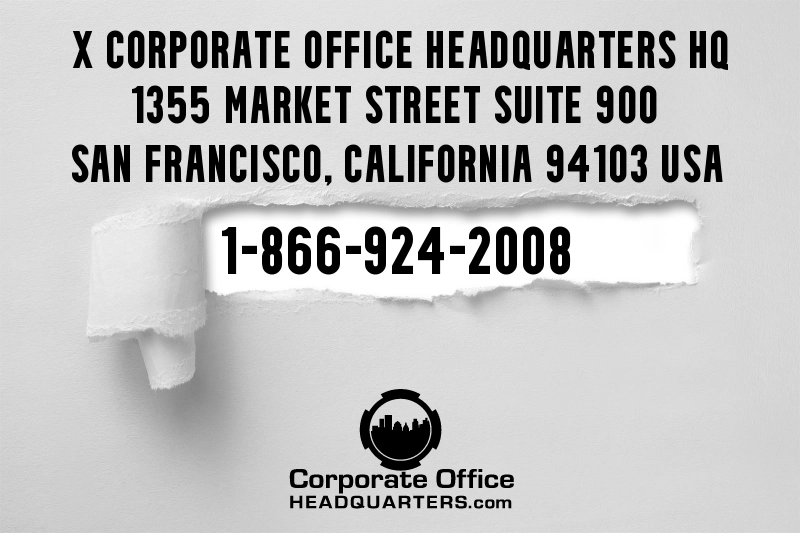 Why You Can Trust CorporateOfficeHeadquarters.com
"At CorporateOfficeHeadquarters.com, we've built a foundation of trust and reliability. Our vast database is dedicated to providing users with accurate phone numbers, addresses, and essential corporate details, all rigorously vetted for accuracy. Beyond just data, we empower users to share reviews or file complaints, ensuring transparency and fostering a community that holds corporations accountable. When you turn to CorporateOfficeHeadquarters.com, you're not just accessing information; you're engaging with a trusted resource committed to integrity in the corporate world."
Disclaimer:
CorporateOfficeHeadquarters.com is not associated with X Corp., Twitter, Tesla, Space X or Neuralink. This website is for information, reviews, feedback, ratings, and complaints purposes only. Information was verified by a live person as of July 2023. Please report any errors to the webmaster.