AAA Corporate Office is located in Florida. The details below offer a closer look at the corporate office for AAA, encompassing their address, phone number, customer reviews, and more.
How To Contact AAA Corporate Office Headquarters HQ:
AAA Headquarters Address:
The American Automobile Association
1000 AAA Dr. Heathrow, FL 32746 USA
AAA Main Office Phone Number: 1-407-444-7000
Customer Service Number: 1-800-222-4357
AAA Auto Insurance: 1-800-891-4222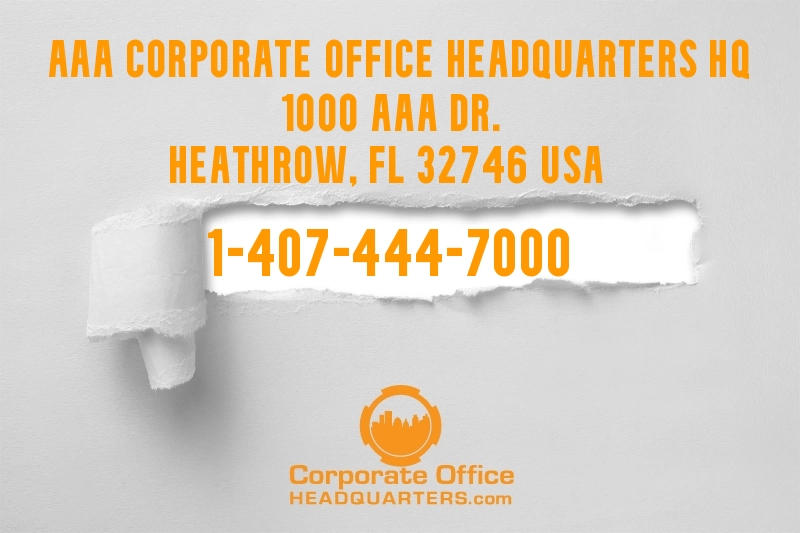 Maps and Directions To AAA Corporate Address
Why Trust CorporateOfficeHeadquarters.com?
Our goal at CorporateOfficeHeadquarters.com is to offer accurate, comprehensive information about various corporations. Our dedication to transparency ensures readers receive trusted, up-to-date details about brands and their corporate structures.
Disclaimer:
CorporateOfficeHeadquarters.com is not officially associated with AAA. The information provided is for general knowledge, feedback, and review purposes.
Feedback and Reviews:
We encourage readers to dive into the comments below. If you have complaints or commendations regarding AAA, your feedback is invaluable. By sharing your experiences or reading the reviews of others, you contribute to a more well-rounded understanding of the brand.