AutoNation Corporate Office is located in Fort Lauderdale, Florida, USA. The company is a leading figure in the automotive retail industry. Below are comprehensive details about AutoNation's corporate office, including their address, contact numbers, and a brief overview of the company.
How To Contact AutoNation Corporate Office Headquarters HQ
AutoNation Corporate Office: Overview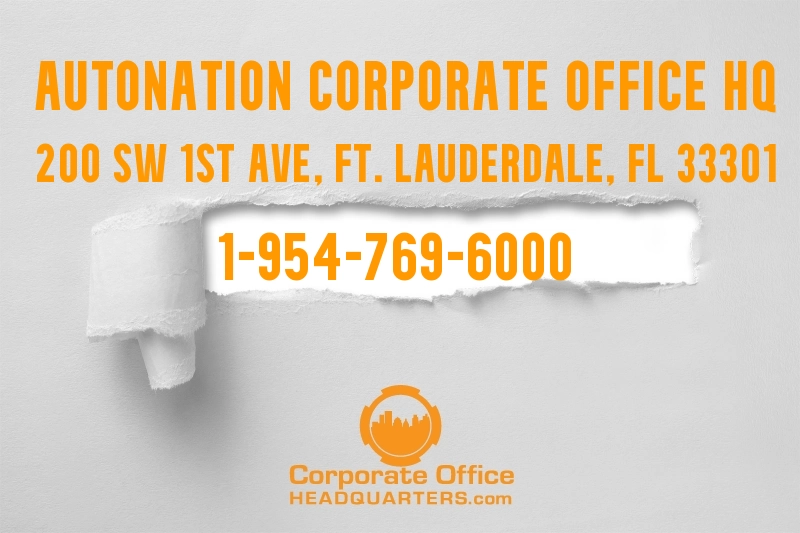 Maps and Directions To AutoNation Corporate Headquarters
A Snapshot of AutoNation's History
Founded in 1996, AutoNation has grown to become America's largest and most recognized automotive retailer. The company owns and operates over 300 locations nationwide, offering a wide range of new and pre-owned vehicles, along with vehicle maintenance and repair services. AutoNation is a dealer for Ford, Toyota, and GM.
The Automotive Retail Industry and AutoNation's Position
In the competitive automotive retail sector, AutoNation stands alongside other large dealerships and used car retailers. Key competitors include CarMax, known for its large-scale no-haggle used car outlets, Carvana, famous for its online car buying and selling platform, and other regional and national dealership groups. AutoNation differentiates itself through its extensive network of locations, wide range of new and pre-owned vehicles, and customer service initiatives, which include personalized services and a focus on transparent pricing.
AutoNation's Customer-Focused Strategy
AutoNation's strategy revolves around enhancing the car buying experience for its customers. This includes offering comprehensive services such as financing options, warranties, and a focus on transparent pricing, aimed at simplifying the process of purchasing a vehicle.
Why Trust CorporateOfficeHeadquarters.com?
At CorporateOfficeHeadquarters.com, we strive to deliver precise and up-to-date information on various corporations. Our commitment to accuracy ensures our readers can rely on the information we provide about companies like AutoNation.
Disclaimer:
CorporateOfficeHeadquarters.com is not affiliated with AutoNation, Inc. This content is for informational purposes and is designed to offer a platform for reviews and user feedback.
AutoNation Corporate Office Complaints, Reviews, and Feedback
We encourage you to share your experiences with AutoNation's vehicle selection, customer service, and dealership services. Your feedback in the comment section is invaluable, providing insights that help others understand AutoNation's operations and customer service.